Wollongong, also known as "The Gong", means "sea of the South" in the indigenous language. First discovered by European navigators George Bath and Matthew Flinders in 1796, it is the 3rd largest city in NSW. With its miles of bewitching beaches and sparkling blue waters, this natural playground provides a mixture of fun outdoors activities, such as: cycling, surfing, skydiving and paragliding. 
Wollongong Private Tour will take you on a scenic journey along the Grand Pacific Drive, see the magnificent soft sand beaches; adore the surreal views at the winding Sea Cliff Bridge; visit the world-famous Kiama Blowhole and the largest Buddhist temple in the southern hemisphere; and step back in time at the Kiama Historic Terrace Houses.
Grand Pacific Drive

Royal National Park

Nan Tien Temple

Kiama Blowhole

Kiama
Start Time
9 am
Finish Time
7 pm
Inclusions
Transport
Hotel Transfers
Friendly Guide
Bottled Water
Child Safety Chair (if required)
Heaps of Fun
Parking fees
Tolls
Hotel Transfer
Our guide will greet you at the hotel in the morning. Upon return to Sydney, you can choose to be transferred to either hotel or any restaurant within CBD
$769 AUD
for 8 seater Mercedes
(Suitable for 1 to 7 passengers)
$969 AUD
for 12 seater Mercedes
(Suitable for 8 to 11 passengers)
For a group booking of more than 11 people, please contact us for a quote.
Have more questions?
Please see our Frequently Asked Questions.
Early morning, our guide will greet you at hotel or Sydney Airport.
Wollongong is the third-largest city in NSW, approx. an hour drive south of Sydney CBD. Travel along the stunning Grand Pacific Drive, you will see gorgeous beaches and sheer sea cliffs. With a variety of leisure activities, Wollongong is on the top of Sydneysiders' family vacation list.
The 140 km Grand Pacific Drive is one of Australia's most famous touring routes, it starts from Royal National Park south of Sydney and finishes at Shoalhaven. Along the route, you will enjoy a variety of enchanting natural wonders, from the 665 metre long snake-shaped Sea Cliff Bridge to the world's second oldest national park. The route roams through Wollongong and historic seaside villages of Kiama and Shellharbour. If you wish, there are a range of leisurely activities and culinary experiences that could be customised into your Wollongong day tour.
Between June and October each year, multiple spots along Grand Pacific Drive are ideal for watching annual whale migration.
Founded in 1879 by then acting Premier of NSW, Sir John Robertson. The National Heritage-listed park covers 151 square kilometres and is home to a diverse collection of flora and fauna. Wander through it, you will find amazing Aboriginal rock arts at Jibbon Head, observe gregarious birdlife and cascading Curracurrong Falls, even rare and threatened wildlife species, e.g. parma wallaby and fufous scrub bird. In addition, the national park has many secluded beaches and towering cliffs along its coastline. For the brave-hearted,  hike to the widely-instagrammed Wedding Cake Rock and Figure 8 Pools.
The Wedding Cake Rock and Figure 8 Pools at Burning Palms Beach are popular attractions for keen hikers and photoholics, it takes approx. 1 hour and 2-hour one way journey respectively.
Wollongong Head Lighthouse
Also known as Flagstaff Hill Lighthouse, it is located at the end of Flagstaff Point, north of Wollongong. The lighthouse was built in 1936 to guide maritime traffic into Port Kembla Harbour. The 12-metre high tower was the first in NSW to be equiped with fully automatic flashing lights. Furthermore, this is the only place on the east coast of Australia with two lighthouses within close proximity of each other, the other being Wollongong Breakwater Lighthouse.
The open space around the lighthouse offers fantastic views over the urban area of Wollongong and its miles of picturesque coastline. Take a break and enjoy the refreshing sea breeze on the feathery grass. At the pier, children love to scramble around at the kids' playground while grown-ups sip on freshly-brewed aromatic coffee from the nearby cafe.
Nan Tien is the largest Buddhist temple in the southern hemisphere. The temple was founded by Hsing Yun in 1967, it is a branch of the Taiwanese Fo Guang Shan Buddhism. Construction for this grandeur edifice started in 1992 and completed in 1995, combining Chinese traditional architecture techniques and modern features. The temple not only serves to bridge different cultures in multi-cultural Australian society, it is also an award-winning tourist attraction. In addition, the temple boasts of well-cultivated gardens, museum, seven-level pagoda and Buddhism-related festivals around the year.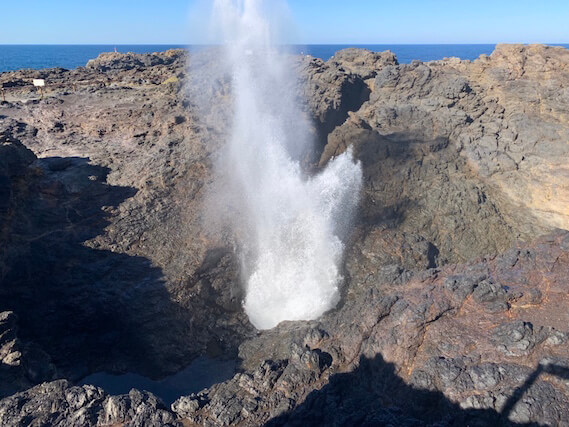 The Kiama Blowhole was formed from basalt lava flows dated back 260 million years ago! First documented by George Bass in 1797, the sea-cliff cavern can spray water up to 25 metres into the air thanks to the southeast ocean swells and ocean waves entering the cavern. It is one of the largest blowholes in the world, its soaring sound and spectacular splashes attract close to 1 million visitors annually. The grass area under the Norfolk Island pines is great for a picnic.
Kiama is a coastal gem located on the South Coast of NSW, its name derives from the Aboriginal word "kiarama" which means "a place where the sea makes noise". There are many places of interest to explore in the town, the world-famous Kiama Blowhole, farmers market, Pilot's Cottage Museum, Australia's highest zip-line and the National Trust-classified Historic Terrace Houses, the houses were first established in 1886 to accommodate Kiama's early quarry and mining population, now they have been revamped into well-decorated restaurants and shops.
Located a short 10-minute drive from Nan Tien Temple, you will find top quality wild caught Australian abalones in live, frozen and canned forms at Dandean Exports Pty Ltd. In addition, fresh sea delicacies such as: sea cucumbers, lobsters and mud crabs are also available. You can even take a tour to discover how abalones are grown and processed at Dandean Exports.
Science Centre and Planetarium Wollongong, also known as Science Space is a science and space hub for children of all ages. Through its two-storey of more than 100 multi-themed interactive exhibitions and shows, covering subjects such as: nanotechnology, fossils and coal industry, kids get to learn new knowledge through purposeful and quality play experience. The museum also features the most advanced planetarium in Australia which recreates the night sky indoors.
Kiama Lighthouse was established in 1887. Located next to the famous Kiama Blowhole, the lighthouse was originally equiped with an oil burner and catadioptric fixed lens, it was visible from 9 nautical miles away. Today the lighthouse has been upgraded to electrically-powered automatic operation. The former keeper's residence has been turned into a museum, open to public on weekends.
Jervis Bay is well-known for its white sand beaches and azure waters, the crystal clear seawater is perfect for snorkelling and swimming. Its rich natural habitats are home to a large number of bottlenose dolphins, seals and seabirds all year round. Jervis Bay is also a great spot to watch Humpback and Southern Right whales during their annual migration between June and October, visitors may even find False Killer, Minke whales and Orcas in the water occasionally.
Jervis Bay is approx. 3-hour drive from Sydney one way.
Wollongong is a popular skydive destination. Accompanied by professional instructors, the 15,000 feet tandem skydive offers the thrill of free fall at 200 km per hour in 60 seconds. Indulge in the stunning scenery of Royal National Park and Grand Pacific Drive coastline under canopy (5-7 minutes).
Group booking needs to be made in advance, please talk to our staff for more information.
A Petite Tour creates fun and memorable travel experience by providing quality tour services! Every trip is bespoke to what you would like to see and do. With flexible itinerary and attention for detail, we want to create happy moments for more families, a trip that is right for everyone!
Our guides are friendly and fun, tap into our expansive knowledge about Australia and travel, tailor an unforgettable travel experience. English, Mandarin & Cantonese tour service are available.
Travel in comfort and style, Mercedes Benz luxury vehicles , free hotel & airport transfers on full-day tour. Ticket pre-booking to secure your spot in advance, restaurant recommendations and more!
Organise a holiday for a big group is hard-work, we do our best to help, no overtime surcharge or compulsory tips,  bottled water, child safety chairs/wheelchair, umbrellas and more. You can count on us!