"Impressed by A Petite Tour with the professional tour service provided. They are flexible, making good recommendations to the tailored itineraries at our pace. Good knowledge on history, culture, scenery and local authentic experiences. Sharing interesting facts about wildlife" – Kue Chin
No trip to Melbourne would be complete without a Phillip Island day tour! Hop on the more than a century old steam train traversing through lush Victorian rainforest, relish the gorgeous sunset views at The Nobbies and adore lovely little penguins in the twilight.
Spend a lovely afternoon with Australian animals, koalas, kangaroos, wallabies, emus, alpacas and more at Maru Koala & Animal Park. In summer, indulge in a delicious dinner in seaside gem Cowes. Watch cute little penguins waddle back to their burrows.
Brighton Beach Boxes (summer)

Puffing Billy steam train ride

Maru Koala and Animal Park

Seaside town Cowes (summer)

The Nobbies (best sunset views)

World Famous Penguin Parade
Start time
9 am (winter)
12 pm (summer)
Finish time
8 – 12 pm (depend on season)
Inclusion
Transport
Hotel Transfers
Friendly Guide
Bottled Water
Child Safety Chair (if required)
Heaps of Fun
Car Park
Toll Fee
Hotel Transfer
Guide will greet you at the hotel on the morning of your tour. Upon return to Melbourne, you can choose to be transferred to either hotel or any restaurant within CBD
AUD $799
for 8 seater Mercedes
(Suitable for 1 to 7 passengers)
AUD $999
for 12 seater Mercedes
(Suitable for 8 to 11 passengers)
For a group booking of more than 11 people, please contact us for a quote.
Have more questions?
Please see our Frequently Asked Questions.
Tour guide will greet you at the hotel.
Travel southeasterly from Melbourne, Phillip Island private tour includes many of the famous attractions around Melbourne, Brighton Bathing Boxes, Puffing Billy and world famous Penguin Parade.
Tourists have been flocking to Phillip Island to watch penguins since early 20th century, home to resourceful natural habitats and the world's largest number of little blue penguins. Most of the attractions on Phillip Island are not-for-profit organisations. Proceeds from ticket sales will be used to protect the flora and fauna and preserve the ecosystem on and around the island.
Puffing Billy Steam Train
Puffing Billy Steam Railway traverses through the lush rainforest of Dandenong Ranges National Park. The trains were first operated in 1900 for the transportation of local agriculture and logging products. The railway consists of five stations, namely Belgrave, Menzies Creek, Emerald, Lakeside and Gembrook. A complete journey would take approximately 2 hours,  25 minutes of journey between each two stations on average. Despite the conundrum caused by the landslide in 1953, the railway's gradually re-opened sections of its track over the years, thanks to the Victorian State Government and its Preservation Society. This has seen Puffing Billy gaining tremendous popularity with families all around the world. The steam trains kept their original steam engines dated back 1912, they slowly traverse through the lush Dandenong Ranges fern forest, experience the fragrance from the local flora and fern trees while enjoy the stunning scenery along the historic railway.
Puffing Billy Steam Train tickets:
One hour from Belgrave to Lakeside: AUD $ 40 adult / AUD $22 child (4-15 years old).
Maru Koala and Animal Park is a family-operated zoo en route to Phillip Island, it exhibits a variety of Australian animals. including: koalas, kangaroos, wallabies, Tasmanian devils, Tawny Frogmouth, alpacas, dingos and more. You can get up-close views of friendly kangaroos and wallabies, or snap a picture with cute koalas.
Optional fee-paying activities include: koala close encounter, dingo close encounter. The animal park also features daily shows and animal talks throughout the day, such as: sheep shearing at 2:30 PM. In addition, The adjacent mini-golf course is great fun for a whole family to take part in.
Maru Koala & Animal Park admission ticket: Adult $30 / Child $16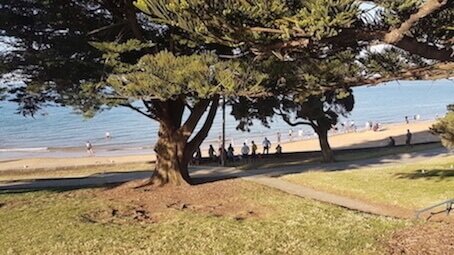 Cowes is the largest township on Phillip Island, it offers many excellent restaurants and is a popular stop for travellers on Phillip Island tour. The communal beach becomes lively in summer teeming with locals and tourists. On daylight saving times, our Phillip Island private tour includes generous dinner time in Cowes, you can pick from a range of quality eateries,  including Italian, Thai, local pub food, Chinese and other table service or fast food restaurants.
The grass area next to the beach is pleasant to chill out after dinner, indulge in the cool sea breeze and balmy afternoon sun.
The Nobbies – Phillip Island
Located at the very end of Phillip Island. The Nobbies forms a part of  "Summerland" nature reserve where the world's largest population of little blue penguins inhibit and thrive. Their neighbours, a colony of more than 25,000 fur seals nestle on a small island situated 1.5 km  from The Nobbies coastline.  Humpback whales can also be spotted in the waters between May and October during their annual migration.
The boardwalk at the Nobbies is stunning at sunset. Take a stroll, you will be impressed by the natural beauty along the coast. Scattered around the area are many wooden boxes that were built by Phillip Island Nature Park staff to house the little penguins (More than 4,000 homes have been built for those little penguins so far). The dark-coloured rocks along the coast were formed by lava from volcanic eruptions thousands of years ago.
Penguin Parade – Phillip Island
The world famous Penguin Parade is the most visited attraction on Phillip Island. Hundreds of thousands of travellers around the world come and admire penguins' charm. Unlike emperor penguins that live in the Antarctica, Phillip Island is home to the largest population of little blue penguins, a total of approximately 33,000 so far. Also known as fairy penguins, they are 33 centimetres in height on average. They are found only in certain parts of the southern hemisphere. Thanks to the penguin protection and research projects conducted by the Australian government since 1980s. Summerland has remained as a fertile natural habitat for fairy penguins.
Little penguins are early risers, submerge into the Southern Ocean and return after sunset, some may take a longer trip before returning home. Penguin Parade occurs after twilight, hence the time varies considerably throughout the year, e.g. 9 pm in January and  6 pm in June.
There are three types of admission tickets for Penguin Parade,
1) General Viewing Platform (Photo 2), outdoors spectator benches, up to 3,000 seats, further from where the penguins emerge from the shoreline, generally less penguins traffic in comparison to Penguin Plus & Underground Viewing. Tickets: Adult: $ 27.70 / Child: $ 13.70
2) Penguin Plus (Photo 3), outdoors viewing platform, right above the Underground Viewing platform, a total of 300 seats for spectators, you will generally see more penguins wiggle past you, wider viewing angle in comparison to the Underground Viewing platform, suitable for summer & autumn. Ticket price: Adult: $ 65 / Child: $ 32.50
3) Underground Viewing (Picture 4), The only indoor viewing platform accommodates up to 80 visitors each day. Watch the little penguins right from eye level, a raised platform purposely built for children. It is a great option during winter and offers more comfortable viewing experience. Ticket price: Adult: $ 75 / Child: $ 37.50
In summer, General Viewing and Penguin Plus tickets are recommended, however if you fear the chilly wind and rain, Underground Viewing is highly recommended.
Little penguins have sensitive and delicate eyes, strong light from camera flash can potentially cause damage or disorientate them, so please ensure that no camera or video devices are used while watching the penguins. Let us bring back only the incredible memories and keep these cute penguins returning back to Phillip Island for more to relish.
Located 30 minutes from Melbourne CBD, Brighton Beach Boxes consists of 82 uniform beach boxes lining up on Brighton Beach, each bathing box has a dimension of 2.4 meters length, 2 meters width and 2 meters height. However no identical colour and mural can be found on two beach boxes. First built in 1860s, the more than a century-old Brighton Beach Boxes are a part of Melbourne's rich heritage. As new beach box is no longer permitted to be built, Brighton Beach Boxes are big-ticket items! Prohibited from any commercial activities, they are solely for private indulgence. The wider Port Phillips Bay blocks out strong water currents from the Southern Ocean, making Brighton Beach an urban oasis, the calm waters and soft-sand beach are ideal for swim and sunbath in summer. You will also enjoy striking panoramic views of Melbourne CBD from here.
Interesting Fact: There is a total of 1,860 beach boxes lined up around Port Phillips Bay, of which 1,315 are located in Mornington Peninsula.
Koala Conservation Centre – Two boardwalks crisscross in the woods, allow visitors to watch koalas in close distance from different angles.
Admission tickets: Adult $13.70 / Child (4-15 years old) $6.85
Churchill Island Heritage Farm provides exciting farm shows and exhibits from 2 PM onwards daily, such as: sheep shearing, cow milking, whip cracking and working dogs. The track to the farm is scenic and yaks can often be seen  grazing by the roadside.
Daily farm shows timetable:
10:30am Blacksmithing
2:00pm Cow Milking
2:30pm Sheep Shearing (weekends only)
2:45pm Working Dogs
3:00pm Whip Cracking
Tickets: Adult $13.70 / Children $6.85
Fed up with red lights and speed cameras in our daily life? Why not put your foot to the peddle with the French-made Sodi RT8 go-karts, compete with others on Phillip Island's own race track. The go-karts are a safe sport, the friendly staff will provide safety instructions before you jump into a go-kart. The spectator stand offers bird's eye view of the entire track and some unrivalled view of the ocean in the distance.
For more information, please refer to Phillip Island Go-Kart
Phillip Island Helicopters – Take a helicopter ride to see attractions on Phillip Island and Mornington Peninsula from the sky.
Price ranges from $ 125 to $ 400+ based on duration and flight route.
For more information, please refer to Phillip Island Helicopters
A Maze'N Things is a great playground for kids. The attraction features 5 themed activities for children of different age groups, it includes: Magic Manor, Puzzle Island, Maxi mini Golf, SkyTrail and an outdoors Maze (the largest 3-D maze in Australia). Kids will be amused by the fun optical illusion, the Puzzle Island and 3-D maze will stretch children's imagination and put their memory to test.
Puzzle Island, Magic Manor & Maze admission price: Adult $39 / Children (4-15 years old) $26.
Recommended time: 1.5 hours. For more information, please refer to A Maze N Things
Additional Tour Description
Phillip Island is located 140 km southeasterly from Melbourne, named after Arthur Phillip (first governor of New South Wales). its proximity to the state capital makes it a popular weekend destination for locals and tourists, especially in summer. Phillip Island is connected to the mainland over a bridge, it is home to an abundance of wild animals, including notably kangaroos, wallabies, koalas, mutton birds, fur seals and the well-known little penguins (up to 33,000 living  around Phillip Island). In recent years, an increasing number of Humpback and Southern Right whales are also spotted in the nearby coastal area. Furthermore, The island is well-liked by motorsport fans with motorcycle and car racing events held throughout the year on its own circuit.
A Petite Tour creates fun and memorable travel experience by providing quality tour services! Every trip is bespoke to what you would like to see and do. With flexible itinerary and attention for detail, we want to create happy moments for more families, a trip that is right for everyone!
Our guides are friendly and fun, tap into our expansive knowledge about Australia and travel, tailor an unforgettable travel experience. English, Mandarin & Cantonese tour service are available.
Travel in comfort and style, Mercedes Benz luxury vehicles , free hotel & airport transfers on full-day tour. Ticket pre-booking to secure your spot in advance, restaurant recommendations and more!
Organise a holiday for a big group is hard-work, we do our best to help, no overtime surcharge or compulsory tips,  bottled water, child safety chairs/wheelchair, umbrellas and more. You can count on us!